These are the new ferrets I have up for adoption. If at all possible I'd like them to stay together because they are bonded.
Leyla-Sable-4 yrs. Bad biter
Elvis-Siamese-5 yrs. Will nip after licking your arm.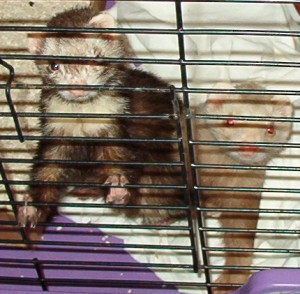 ---
I love happy endings like this, the gentleman that adopted Odie is coming back this weekend for Peanut. The brothers will be living together with their new sisters.
Odie(M)-chocolate sable-1 yr.(Odie has now been adopted)
Peanut(M)-champagne panda-around 2 yrs.

Both ferrets are healthy with no known medical problems. They are very friendly and love to give kisses, the perfect pair for some lucky family.


Click to see the enlargements.
If you're interested in adopting any of these ferrets please contact me.
E-MAIL
I'm located in New York on Long Island.
Main Index